The Grass can be Greener.......with Turf Solutions. Garden, Lawn, turf, Domestic, Irrigation specialist. Irrigation system design, Installation and Maintenance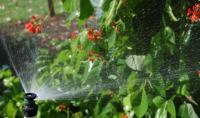 Turf Solutions is an irrigation specialist based on the Kent / Sussex border and operates throughout the southeast of England.
With over 10 years experience installing irrigation systems we offer a wide range of irrigation services from complete design and installation to maintenance and repairs.
Turf Solutions undertake all aspects of irrigation work and install a wide range of irrigation systems from simple mains fed micro irrigation for patios and hanging baskets to more complicated pressurised irrigation systems for lawn irrigation and flowerbed irrigation.
Turf Solutions provide a friendly and reliable irrigation service on a one to one basis with the client and happily work alongside garden designers and landscapers alike.
With a history of installing golf course irrigation systems Turf Solutions still install every domestic irrigation system to golf course irrigation specification ensuring an infallible irrigation system that will run for years and years virtually maintenance free.
Every irrigation system is designed especially to suit your garden's needs and installed with minimal disruption so within weeks you could be enjoying your garden with all the benefits of a fully automated watering system.
For more information contact James Mills at Turf Solutions
Office: 01435883834
Mobile: 07952533805
Email: turfsolutions03@gmail.com
Turf Solutions Garden, Domestic, Sports and Golf Irrigation Specialist. Irrigation and Rainwater Harvesting Design, Installation and Maintenance based in Tunbridge Wells area on the Kent / Sussex border close to London and Surrey